Painting newly completed, Saint Emilion, Bordeaux wine village paintings, what do these world famous villages look like?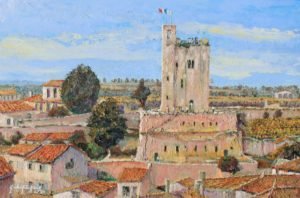 … Red wines, which name above all springs to mind … and palate, Saint Emilion, 'The most famous name in red wine'!
Sainte Emilion, the sentinel, "The King's Tower", 40 x 61 cm (16″ x 24″) £ 1,400.

One of the Bordeaux Famous Wine Villages Collection, a beautiful series yet to be exhibited in public.
Now here is an opportunity for you, exhibit these paintings with products of the region !
Many distinguished people and renowned companies have chosen Frickers paintings.
French spelling Sainte Emilion, a classic view, a timeless painting, an excellent investment of enduring interest, to give you pleasure every time you see it upon your wall.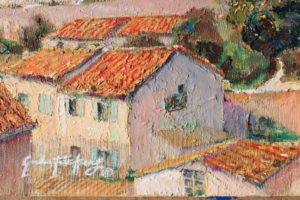 You can discover more by viewing Frickers unusual illustrated resumée.
Gordon Frickers is widely considered a master of spectacular painting.