Portrait Painting created to order for a gift & heirloom.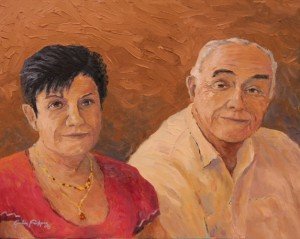 Portrait Painting as a gift & heirloom
25 x 38 cm (10″ x 15″) with oils as commissioned, by Gordon Frickers, a portrait paintings.
You could  commission a painting of this quality from as little as £750.00, phone, ask how.
Painting
"Joëlle Azemar grand merci pour ta peinture magnifique tu as fait des heureux", sent via Facebook.
This study is produced during March 2015 from a rather unsatisfactory 6″ x 4″ photograph.
The photograph was enlarged sharpened, colour balanced and reprinted via the artist's computer to produce images of sufficient quality to work from.
'A work of art which did not begin in emotion is not art.' Paul Cézanne, born on the 19 Jan 1839.
The picture was commissioned and intended to become a gift for the client's much loved auntie
and uncle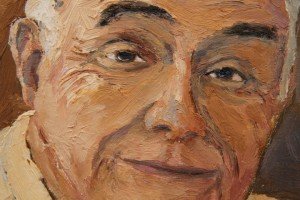 I never met my subjects, it happens that way sometimes.
I was however able to improve on the composition and expressions of the couple and deliver this portrait painting in good time within budget.
Customer satisfaction ; "The painting is even more beautiful in person than online. I love the texture and the use of light". "The painting arrived well wrapped and no worse for wear related to the journey".
John J. Hogerty II Executive Vice President & General Counsel, Bergstrom Corporation of his newly acquired painting, 12.12.2022, quoted for you with his kind permission.
WhatsApp, Telegram.com or Facebook Messenger to  'gordonfrickers'
Mobile : + 6 10 66 19 26, Landline : + 33 (0) 9 79 01 93 20
E : artistfrickers at gmail.com
Email: artistfrickersatgmail.com : note, the 'at' is to fool robots and should be replaced with @ : if it arrives I always reply.
Websites : www.frickers.co.uk/art (marine & aviation)
& www.artfrickers.com (Landscapes & portraits).
Copyright 2023 and legal moral rights for painters
For commercial use our Fees and Terms  are among the most generous on the Internet.
Don't hesitate to ask for details if you want to use this image, credit the artist & this website. and helps us with search engine optimisation, thank you.
Gordon Frickers © 28.03.2015 updated 20.08.2023
You are cordially invited to follow my blog and can help by sharing my posts. See also www.facebook.com/gordonfrickers.
NEW :
If you enjoy and appreciate my work do 'like' and share my posts, please be sure my name is mentioned, this enormously helps my page with Search Engines, thank you😊.