The Medoc region has a more subtle beauty than that of other parts of the Bordeaux region.
'Picturesque Wine Villages of Bordeaux' series.
Welcome aboard:
Navigation: click on the picture for a larger image, click on the blue hyperlinks to find a collection and access individual paintings.
In a way this is mirrored by the wines of the Medoc which include three of the ten finest quality chateaux the in the world, listed as Premier Cru by Imperial decree 1855.
The Medoc is the youngest of the Bordeaux region's wine producing regions which has not stopped the Medoc giving rise to the world famous Chateaux Margeaux and both the Rothschild Chateaux, Chateaux Lafite and Chateaux Mouton.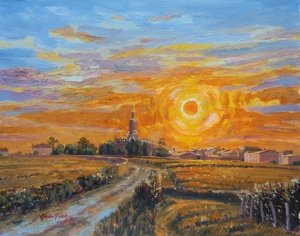 The trade on wines from Bordeaux has roots at least as deep as the seas plowed by Phonecian navigators. Here we see a typical Carrack of the 15 th century leading a fleet into the hazardous Gironde estuary. The title link will lead you to the painting for further information, enjoy.
Chateaux Margeaux, Chateaux Lafite and Chateaux Mouton are well established as representing the most renowned wines and Chateaux in the world.
To rise to such eminence in isolation is not possible and there in lies the tale of the Medoc.
The Medoc was a tidal flood plain.
The Medoc is bordered to the north by the broad deep water, dangerous currents, shifting sand and mud banks of the navigable Gironde estuary.
The Medoc, besides the great chateaux  hosts numerous smaller estates and some very undeveloped pretty villages and a few of  these are our subjects.
The Medoc is sited to the west of Bordeaux, The Medoc's history  and development being quite different from the rest of the region.
Of Medoc wines, so distinguished, the Medoc has pioneered fine wines since at least the 17 th century.
Most historians agree, following the decimation by barbarians during the dark ages  the wine trade was re stimulated by the English commencing the reign of Eleanor of Aquitaine who married Henry II (Plantagenet) of England.
The Medoc offers relatively cheap properties, great walking and cycling and if you get as far as the coast, unspoiled beaches lakes and woodlands.
T: + 44 (0)1865 52 2435 or Skype 'gordonfrickers'
Email: info@nullartfrickers.com
Gordon Frickers © updated
Copyright 2016: Gordon Frickers artwork and texts: For educational and private use for example we will allow a free copy. However please note. by International law these pictures and texts may only be copied after written permission and for commercial use, after a copyright fee has been agreed and paid.
Our fees are friendly our terms always reasonable.
Gordon Frickers © 14.02.15, updated 30.03.15, 24.05.15, 20,03,16