Antibes Bay, Cote d'Azur, South of France, the colours based upon my experience at Antibes.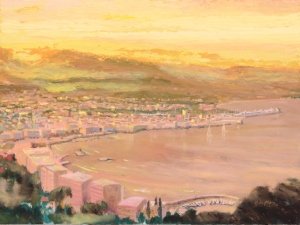 A larger painting 76  x 101 cm (30″ x 40″), oils, available, £2500.
Any reputable gallery would be delighted to offer this painting for this price…
Antibes, an  exceptional painting combining a number of techniques, including abstract passages, spatula work and on closer inspection, fascinating fine detail so represents a fine example of the versatile artist's work.
To acquire or commission a similar painting
Contact US ~ T:+ 44 (0)1865 52 2435  or Skype 'gordonfrickers'
 whatsapp, or phone M: + 33 (0)6 10 66 19 26
Email ~ Important ! please substitute 'at' for @: artistfrickersatgmail.com
How much in my currency? Try our free XE Currency converter. By arrangement payments can be in instalments.
Antibes was for centuries a French frontier town, on the French boarder with Savoy, vulnerable to, fortified against Arab pirates.
Romantic Antibes today is a vibrant town with an active port mostly given over to yachts.
The  port offers an impressive 'Millionaires Quay' were you can see some of the largest superyachts, the largest deep water super yacht port east of Toulon on the French coast.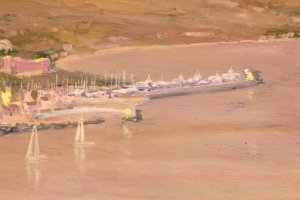 Looking for the very best in new landscape art?
You have found it here:
Timeless paintings, the test of true greatness.
Add to your collection, become one of the distinguished few who own an original Gordon Frickers painting.
You can purchase securely via our 'Payments Page using Paypal or bank to bank.
Further reading: see the images and the development of this painting.
T : Mobile 00 33 (0) 6 10 66 19 26
or Whatsapp 'gordonfrickers'
Email: info at frickers.co.uk
Copyright 2020 fees, our Guarantee, our Terms are among the most generous on the Internet so don't hesitate to ask, you will be in honest, experienced hands.
Gordon Frickers © 09.07.2016, updated 18.07.2020

Copyright 2018

 

fees and our Terms are among the most generous on the Internet, don't hesitate to ask for details

 
You are cordially invited to follow The Art of Gordon Frickers on my blog.