L'Entre-deux-Mers, a relaxed the land between two seas, a land rich with history and legends.

 Bordeaux, "Famous Wine Villages of Bordeaux"  series  

by 
Welcome aboard:
Navigation: click on the picture for a larger image, click on the blue hyperlinks to find a collection and access individual paintings.
For a speedy over view of the subjects this page has two forms.
Click on the images to see a larger version, click on the blue highlighted titles to discover the individual pages, discover, enjoy, add a painting to your collection. 
We wish you to enjoy your visit, find something you like and follow our posts. Spread the word to all collectors you know and help us make this a success for those who appreciate fine art and for the whole art community.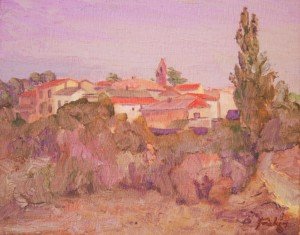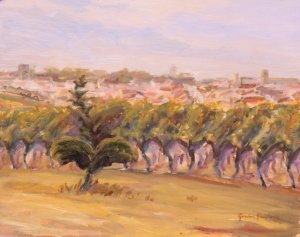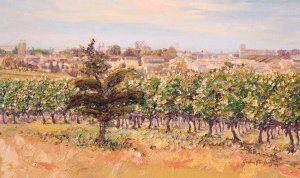 Sauveterre-de-Guyenne is the principal town of the district, founded by the English, during the 100 years war it changed hands many times
Today Sauveterre nestling on picturesque countryside is a peaceful ancient town near the centre of Entre Deux Mers, a district easily accessible from auto routes and with 2 airports.
Entre deux Mers nestling between the great rivers and tidal rivers of Dordogne and Garonne, a French land much influenced by it's English heritage.
A is a tranquil less visited part of this renowned province we know as Bordeaux, Gascony, the people friendly and welcoming. 
Entre Deux Mers is a beautiful region to tour, a landscape gently rolling hills, of old villages many founded by the English well over 600 years ago, of bastide (fortified) towns, Benedictine Abbeys, churches, windmills, quays, ports offering diverse choices of places to eat and drink the fine products of the region, Entre Deux Mers.
This  gentle attractive rural landscape of vines, woodland and vales, includes the smallest commune in France, Castelmoron d'Albret of which Gordon Frickers has appropriately made a miniature painting.
Entree Deux Mers offers the visitor 550 km of marked hiking trails which combine the arts of landscape, wine and gastronomy.
At the centre of Entre Deux Mers is the little village of St Brice with but one place to stay, a very congenial chambre d'ote.
Tourist office, L'Entre Deux Mers
Copyright 2016: You can help and respect Gordon Frickers art work, the long hours, years, his art and texts.
Always credit his name and where possible this web site. Quoting your source helps your credibility, the artist and others to find and enjoy this art.
For educational and private use for example we allow a free copy. However please note; as with all artist's work, by International law these pictures and texts belong to the artist and his descendants, so may only be copied after written permission and for commercial use, after a copyright fee has been agreed and paid.
Our fees are friendly our terms always reasonable.
Gordon Frickers © 13.02.15 updated 12,02,16, 26,03,16, 13.07.2018
You are cordially invited to follow The Art of Gordon Frickers on https://www.facebook.com/gordon.frickers