Carcassonne is simply the most famous, most fabulous, most visited monument between Monte Carlo and Bordeaux.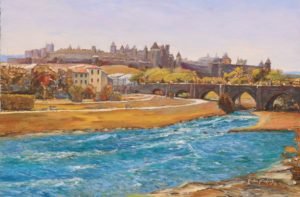 Carcassonne, a particularly beautiful painting by Gordon Frickers, 76 x 121 cm (30″ x 48″),  offers from £3000.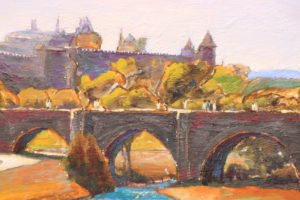 Any reputable gallery would be delighted to offer this painting for this price…
with your credit card here via Paypal, in any currency, including £ / €, / U. S. $, or for easy bank to bank see the Payments page; or in instalments by arrangement, contact Gordon Frickers.
How much in my currency?
 Try this   free XE Currency converter.
Frickers painting are the choice of many distinguished individuals and famous companies as explained by my unusual  resumée.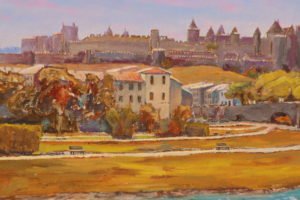 If you don't know of and have never visited Carcassonne this famous city, who's visitor's book includes illustrious and famous names including Walt Disney, Mark Twain, Winston Churchill and even Mike Jagger,  should be on your list for one of your most memorable days out; wonderful restaurants in the Place Centrale too !
A timeless painting to give you pleasure every time you see it upon your wall
The Carcassonne painting
I have the good fortune to have visited Carcassonne and it's environment 6 times which certainly helped with my settling on how and why I have chosen my composition.
My intention here is to share with viewers, a sense of painterly power by using my vision of how the complete landscape painting would be and especially, an intuitive not a deliberate choice of colours and textures.
This painting is also influenced by Feng Shui ideas that encourage and inspire a positive atmosphere in a home or work place.
If you like what you see here you will love the original.
My favourite way ro visit Carcassonne, is to park in the new town (recommend and easy) then take the stroll to the old city.
To truly appreciate the qualities of this luminous landscape you do need to see both the original painting and this very special city.
Plum pudding and lobster salad' :
Flattery of the highest order, I was particularly please to hear one of my best friends, all be he of 'conventional' tastes refer to a part of this painting as looking like "plum pudding".
The painting started fast, loose and intense hence a friend describing this painting as "plum pudding & lobster salad",  a term used to to describe some of the illustrious J M W Turner's paintings.
Turner has since early days at Art college, been one of my heroes.
He had some of his work described as 'lobster salad' hence my delight in my mate's choice of phrase.
More Plum pudding:
In some ways as the details here reveal the picture is less conventionally 'finished' than much of my work.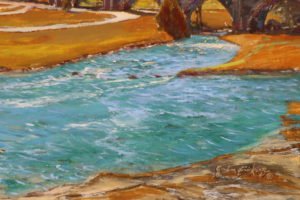 This is quite deliberate; to enhance the vibrant luminous impression, to help you feel the warmth of the Mediterranean air and hospitality of the people.
Thus here for those of you interested in the techniques and philosophy of painting is a feast of ideas and information among the details posted for you.
Never the less this painting merits 7 detailed insertions for you to enjoy and consider.
Like to own this original? Talking is free and fun, contact us.
The strong walls of Carcassonne
have since early medieval times protected the inhabitants, encouraged regional trade and prosperity by standing firm, security between the Mountainous Pyrenees to the west and Les Montaines Noir, Black Mountains to the East, the plain of Narbonne and Mediterranean in the south, Toulouse and Bordeaux to the North.
It is the latter mountains, mostly a regional National Park, that appear as background left hand side in this painting while to the right is a glimpse of the wide valley that leads you to Narbonne and the Mediterranean Sea.
To explore, to dine at one of the many charming reasonably priced restaurants of Carcassonne has to be one of your life's special moments.
You will find the city  South of Toulouse, North of Narbonne, often basking in a Mediterranean climate, the ancient medieval walled city of Carcassonne.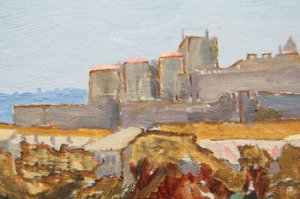 The city guards the Northern route through Languedoc-Roussillon, a major wine producing region that corresponds approximately with the ancient Bas-Languedoc region and the vast Roman province of Narbonne.
Roman Carcassonne
During the long Roman centuries the region prospered as part of the extensive Narbonne Province, a department extending from the Alps Maritime to Barcelona; many echo's remain.
Echo's can still be heard by the keen ear, seen by knowing eyes in the cultures and architecture of the former grand province.
In the city and surroundings of Carcassonne, on the bubbling banks of the river, echos linger in the accents of the people, of a regional language (l'Ocitanne) and music shared, traces of the Cathars with their version of Christianity.
The Cathars
a variant of an early version of Christianity, were exterminated by a crusade ordered of the Roman Catholic church.
the region is rich in stories of besiegers imaginatively and invariably fought off … including Prince Edward, the "Black Prince".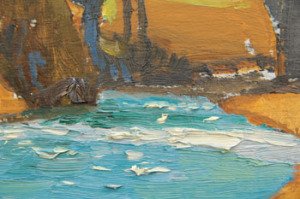 Today Carcassonne is very much a place of song, dance, good eating, fine wines where the best of the medieval period is celebrated, a city renowned for the most impressive Bastille Day firework display in France and a safe place for a dip in the river.
Regularly since 1898, this medieval City of Carcassonne is the setting for some of the most spectacular fireworks in the world on the evening of July 14, Bastille Day.
Carcassonne is a city visited by a very long list of distinguished people as varied as Mark Twain, Winston Churchill and Mick Jagger, Carcassonne is and has been an inspiration including to Walt Disney.
What ever, Carcassone, can sprinkled a magical spell over you, enjoy.
( Carcassonne, tourist information office )
A painting that hangs comfortably with the finest collections.
Looking for the best in fine art investments?
You have found one here.
Best value, buy from a dedicated artist- buy from a reputable, established artist direct from his studio.
To make a purchase the easiest way is bank to bank, ask for details, or using PayPal via the Purchase Page.
Email: infoatfrickers.co.uk
Email note, to foil spammers I've used 'at' in the address, : please substitute @ :
T : Mobile +33 (0) 6 10 66 19 26
or free via Whatsapp / Facebook Messenger 'gordonfrickers'
Copyright 2021 :
Fees and our Terms  are among the most generous on the Internet.
Don't hesitate to ask for details.
Gordon Frickers © updated 07.06.2021