Spectacular landscapes South West of France, introduced through the eyes of the artist Gordon Frickers 

Welcome aboard:
Navigation: click on the picture for a larger image, click on the blue hyperlinks to find a collection and access individual paintings.
The most famous wine region in the world and good for much more.

"more than a match for anything in the Musee d'Orsay" ~ said Alain Soreano, author, historian when introducing my exhibition at the Centre Culturale, Gaillac.
Flattery of the highest order, "plum pudding",  "plum pudding & lobster salad",  was a term used to to describe some of J M W Turner's most colourful paintings.
Carcassone, "the most famous monument between Monte Carlo and Bordeaux".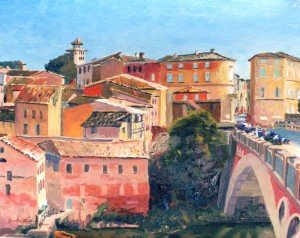 Heart of L'Occitane, famous as one of the oldest wine regions in France
One of a series of 13 th century bastides, hardly changed today, in the Tarn, heart of  l'Occitaine region famed for it's ever changing beauty, foods and wines.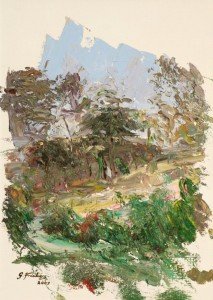 One of the two oldest least spoilt forests in Europe
Forcing my pace, an experimental series of sunrise paintings, each painted on location as the event occurred.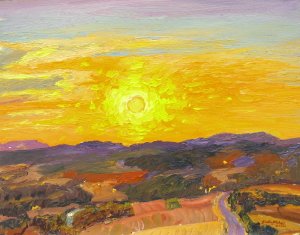 Timeless subjects, most painted on location, others developed from location studies.
These paintings combine many techniques, including abstract passages, spatula work, glazing and on closer inspection, fascinating precise and imprecise details thus represents fine examples of this versatile artist's work and for you, very sound investments.
To acquire these or commission similar paintings
Contact US ~ T:+ 44 (0)1865 52 2435  or Skype 'gordonfrickers'
 whatsapp, or phone M: + 33 (0)6 10 66 19 26
Email ~ Important ! please substitute 'at' for @: artistfrickersatgmail.com

Copyright fees and our Terms are among the most generous on the Internet, don't hesitate to ask for details by email, whatsapp, or phone+ 44 (0)1865 52 2435 M: + 33 (0)6 10 66 19 26
Gordon Frickers © updated 02,02,2017, 20.02.2018, 03.03.2018, 05.03.2018, 15.06.2018, 18.08.2018