Bordeaux project focuses on the villages, the culture, occupations, lifestyles and attractions, often missed by hurrying tourists.
Welcome to the 

 Bordeaux, "Picturesque Wine Villages  Series of paintings"  

These paintings  include some of the often missed charms of the region and invite the visitor to relax and tally longer.
Contents of this page :
Organised via the drop down menu above, each region is introduced by its own homepage with an illustration of each painting linked to individual painting pages and in many cases, links to 'further reading'.
Sub home links; your keys to open this evolving series  :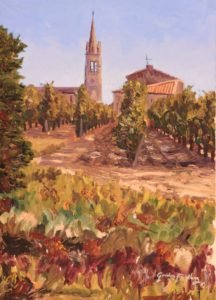 An opportunity for you and me to share ideas, inspiration, a dream.
The vineyards and chateaux of Bordeaux have been much painted, never though a series about the villages.
People, many, know the name 'Bordeaux' and they are curious to learn more.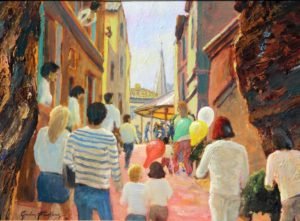 Bordeaux-Picturesque-WineVillages, a modest beginning, a grand project.
Via this collection you can share an experience in a non technical, entertaining way, memorable images, engaging, surprising texts, through the eyes of this artist.
Bordeaux wine region: you know the name, you've probably heard of some of the wines and foods; this ambitious project offers you an artist's eye insight, a memorable, tantalizing look at many of the famous towns and villages, join me for a voyage into the Bordeaux region, Bordeaux, wine and art, three magic words, enjoy.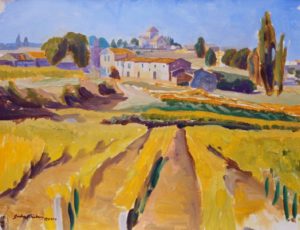 The wine village names roll off one's tongue with a special fluidity: St Emilion, Sauternes, Pauillac, Cadillac, Sauveterre, Medoc, Entrée deux Mers, Graves, Canton de Blaye, Castillon la Bataille, many more;  and the associated region of Gaillac.
This collection has not yet been exhibited in public; there is a problem; people buy the paintings.
Fortunately, with such a diverse, rich subject, I can and am painting more to create a really memorable exhibition.
Meanwhile you have a special preview here, an artist's personal introduction to the glorious Bordeaux region through the rich colours and thoughtful compositions of Gordon Frickers paintings.
An opportunity for you and me to share
Trails on the Internet and by personal contact strongly suggest anyone who eats and drinks will want to attend this exhibition preview (vernissage),  it's even been called "the vernissage to end all vernissage!"
These 'wine art' paintings make a great introduction, an unusually attractive core for the public and press, an exhibition together with products of the region suitable for prestigious locations.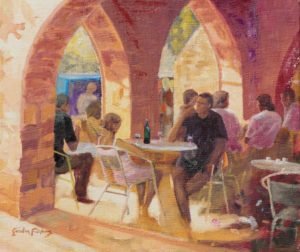 The Bordeaux region :
is dominated by the great chateaux and famous wines, subjects popular with many artists including some of the most famous, Picasso for example.
This particular project is more ambitious in it's extent so has never been attempted before.
No one has focused on the villages, small towns, their idiosyncrasies, vitality, their charm.
Exhibition venues suggested by a previous Head of Tourism, Saint Emilion, include Paris, London, Monte Carlo and New York.
I don't want to organise a major exhibition, I'm a painter.
Thus if you or someone you know is an organiser, publicist, there is a rather special opportunity here for us to work together possibly with a famous chef, with TV, radio; for sure there are possibilities including for a sponsor.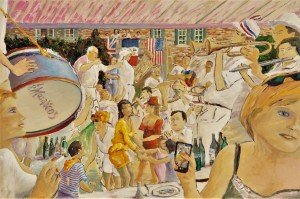 Ideas, ambition, a dream, it has been suggested these paintings exhibited together with products of the region, wines and food tasting at the preview, many people have asked to be invited saying "this will be an exhibition not to miss, with a preview (Vernisage) not to be missed, the vernissage to end all vernissage!"
Here You also have an opportunity to purchase or commission one of these exceptional paintings for your collection.
Contact
T : Mobile + 33 (0) 6 10 66 19 26
or Whatsapp 'gordonfrickers'
Email: info at frickers.co.uk
People, many, are curious.
People worldwide have heard of Bordeaux wines, here you can begin to answer the question, why is Bordeaux so renowned?
The Bordeaux region is richly endowed with charming, distinguished villages, communes and towns with long histories and bright futures.
The name 'Bordeaux' is known throughout the world, yet few have seen this extraordinary region, fewer still know it well.
Bordeaux has a unique trading history past and present being the only wine growing area in France not developed after 'The Dark Ages' by the church.
Many people know of the famous names associated with Bordeaux quality wines but don't know the individual villages.
Each Bordeaux village and small town has it's own ambiences,  the attractions are considerable, the histories, the present and future entertain and challenge our palettes, our imaginations.
With a wealth of inland rivers and canals, Bordeaux has been the principal port for many of the South West wines.
Bordeaux with its port and extensive quays, has a very long tradition of trading worldwide particularly enjoying a very long special relationship with England, The Netherlands, the USA and Germany.
T : Mobile + 33 (0) 6 10 66 19 26
or Whatsapp 'gordonfrickers'
Email: info at frickers.co.uk
A modest beginning, an ambitious project:
This project started in Brest, in Brittany, in the best possible (French) way at a dinner table some years ago with French friends who realised I have an affinity inherited from my Father for good food, 'interesting' wine and an admiration for French culture and people.
Joel and Marie These Linquette suggested "why don't you paint the famous French wine villages"?
I quickly realised the most suitable region to make a start was Bordeaux, and of course it was necessary to repeatedly visit the region, meet interesting people and of course, sample the produce.
While painting at St Emilion I found myself introduced to the Head of Tourisme who was quick to see the project had wider implications, could add value to the entire region potentially benefiting many people.
Looking beyond my immediate concerns, he suggested the paintings form a core for an exhibition or more together with products of the region; Paris, London, New York, Monaco were mentioned. Thus we have an opportunity for an exhibition manager and for sponsors.
Gordon Frickers, is a distinguished artist of 35 + years experience:  example, one of the very few invited to exhibit at the European Parliament (May 2011).
I have visited the Bordeaux region many times over the past 20 years, learning, sketching, researching, photographing, painting on locations, making contacts and in some cases friends, most recently  May / June 2014.
I must be over due another visit to the Bordeaux region.
Care to accompany me?
Landline : + 33 (0) 9 79 01 93 20
Mobile : + 6 10 66 19 26, E : artistfrickers at gmail.com
WhatsApp, Telegram.com or Facebook Messenger to  'gordonfrickers'
Email: artistfrickersatgmail.com : note, the 'at' is to fool robots and should be replaced with @ : if it arrives I always reply.
Websites : www.frickers.co.uk/art (marine & aviation)
& www.artfrickers.com (Landscapes & portraits).
Copyright 2022 and legal moral rights for painters
Sharing my pages and posts for private use helps everyone.
For commercial use our Fees and  Terms  are among the most generous on the Internet.
Don't hesitate to ask for details.
Gordon Frickers © updated 16.10.2022
You are cordially invited to follow and share on your posts, The Art of Gordon Frickers, his blog or www.facebook.com/gordonfrickers.