Sea Mist Morning, I'm fascinated by mists.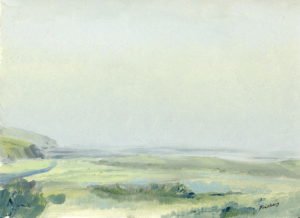 23 x 30 cm (9″ x 12″),  available, £850.
Make your purchase > bank to bank or with your credit card Purchase Now  < via Paypal, in any currency ; or in instalments by arrangement, contact Gordon Frickers.
How much in my currency?
Try this free XE Currency converter.
I have painted mist on quite a few occasions, not at night though, yet.
Here is an early example, 'Par Beach, Sea Mist at Sunrise', painted simply to see what happened.
It's still a favourite of mine so I'm a bit surprised it's never sold.
23 x 30 cm (9″ x 12″),  available, £850. 🙂⚓