Lands End, a charming little gem of a painting revealed on my website for the first time, made before the site was 'developed'.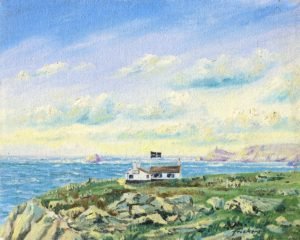 19 x 24 cm (7.5″ x9.5″), available offers ?
Lands End and a view of Cape Cornwall painting made as and when it was before the site was sold and developed into a tourist attraction.
Land's End most westerly headland of the mysterious legend rich Celtic land of Cornwall with it's 200 foot high Granite cliffs, and of mainland England.