Portrait painting, a 'plien aire' sketch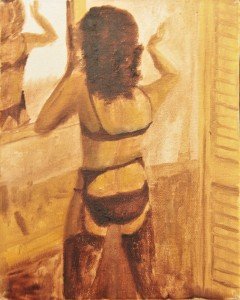 by Gordon Frickers 20 x 25 cms (8″ x 10″), oil sketch
The painting
Unsigned, for many years this rapidly made pleasing study graced a wall in my Plymouth home.
Made 'plien Aire' in Greece (Crete)  many many years ago it had disappeared after I left Plymstock.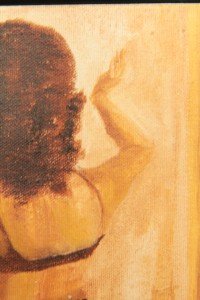 This relatively early example of Gordon Frickers painting (circa 1983?) has many drawing and 'technical' errors, part of the appeal of a very rapid study, none detract from the seductive charm of the painting.
Making up never lead to the 'full on' real thing…
As the painting, so life…
Rediscovered recently, I propose give this portrait painting to the 'model' with whom I'm still in touch to this day, 28.04.2016.
Very unusual for a 'Gordon Frickers' painting, this study is unsigned.
We hope you are enjoying your visit, found something you like and follow our posts. Kindly spread the word to all the collectors you know who enjoy and appreciate fine art, if you think this project deserves success, you can help us make this project widely know, thank you.
Like to acquire or commission a painting of this quality? Phone or email us now, before you forget! T: + 44 (0)1865 52 2435
T: + 44 (0)1865 52 2435 or Skype 'gordonfrickers'
Email: info@nullartfrickers.com
Copyright 2016: Please respect Gordon Frickers art work, the long hours, years, his art and texts.
Always credit his name and where possible this web site. Quoting your source helps your credibility, the artist and others to find and enjoy this art.
For educational and private use for example we allow a free copy. However please note; as with all artist's work, by International law these pictures and texts belong to the artist and his descendants, so may only be copied after written permission and for commercial use, after a copyright fee has been agreed and paid.
Our fees are friendly our terms always reasonable.
Gordon Frickers ©  27,04,16
You are cordially invited to follow The Art of Gordon Frickers on his blog and or https://www.facebook.com/gordon.frickers