'Sunset Series', painting the impossible…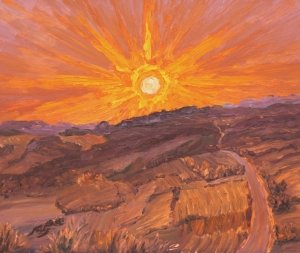 These landscape paintings came about almost by accident or was it inspiration? They were of course pre planned, with careful preparation, however there is a bit of a story behind them…  as were the very deliberately planned Sunrise Series
Many of these studies were painted during a particularly hot summer at Castelneau de Montmiral, my reaction to the first few sunsets was a form of 'WoW'.
Followed by thinking 'impossible to paint' which of course lead to 'I'll try and see what happens'.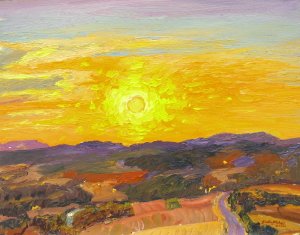 The site I chose to work from was the mound of the Virgin.
Some careful personal preparation was necessary, not unlike an athlete, i had to make sure that despite the day's demands and the temperatures in the 40 C 's I was fed, rested and on location in good time.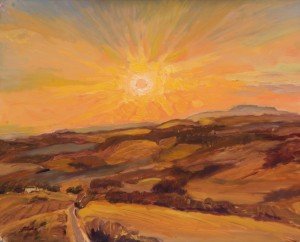 There was also the difficulty and danger of looking directly at strong sunlight to consider.
I quickly discovered, although some of the sunsets looked superficially very similar, when you really look, paint, each has it's own quite distinctive character; quite like people really…
I'd thought of ways to cope with that so improvised with a base ball cap.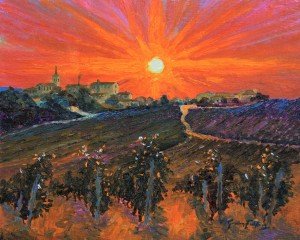 Power Painting ~ These semi abstract paintings were mostly produced influenced by J M W Turner, Vincent van Gough and Francis Pratt of The Painting School of Montmiral., the latter because of his remarks about finding ""Finding Power Painting".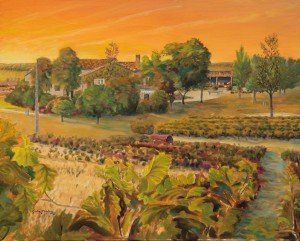 I knew I intended to push myself and my visual perception as vigorously as I could.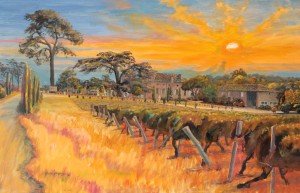 I was to discover what would happen as I painted those extreme sunsets, how would the colours, tones and composition reveal themselves, how would people react after to my results.  

In a the way this painting, made during the 2003 severe heatwave symbolises climate change; now said to be "dangerous" to humanity has arrived much more quickly than anticipated, 2 C up in the Northern hemisphere this winter, 2016 according to a report in buisinessinsider.com
T: + 44 (0)1865 52 2435  Mobile 00 33 (0) 6 10 66 19 26
or Skype 'gordonfrickers'
Email: artistfrickers at gmail.com
I hope you are enjoying this page? Found something you like? You have friends who are interested so kindly share your discovery, spread the word to all who appreciate the sea, fine art and history. You can help other people discover, enjoy, benefit from this remarkable, unique project widely know.
Copyright 2017:
Copyright fees and our Terms are among the most generous on the Internet, don't hesitate to ask for details  
T:+ 44 (0)1865 52 2435 
Email:

artistfrickers at gmail.com
Skype (gordonfrickers)
whatsapp, or phone M: + 33 (0)6 10 66 19 26
Gordon Frickers © 01.04.2015 updated 30.03.15 26,08,2016, 20.09.2017
You are cordially invited to enjoy the fun an fascination of following The Art of Gordon Frickers on his blog and or https://www.facebook.com/gordon.frickers