"The Sunrise Series",
Part of 

  The South West France Collection 

. 
Looking for the very best in new landscape art?
You have found it here: Timeless paintings, the test of true greatness.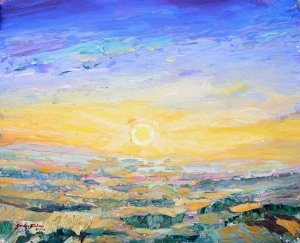 A completely unrepeatable series of semi abstract paintings produced over several weeks from the same location, the South East corner of the bastide village of Castelnau de Montmiral in South West France.
Contactez Nous T : + 44 (0) 18 65 52 24 35, M: 06 10 66 19 26
ou par Skype » gordonfrickers Email : artistfrickers@nullgmail.com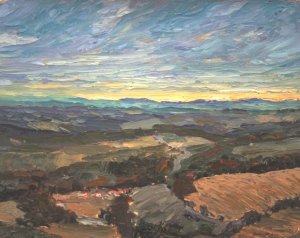 unique is an over worked word which can fairly be applied to these unrepeatable artworks, all painted plien aire, as it happened.
My intention here being to push hard on my limits, to see what happened.
We were experimenting to discover how would the colours, tones and composition reveal themselves through the artist, given the picture had to be completed in some 20 to 40 minutes as the sun was rising.
Recording a sunrise or a sunset in this manner leaves an artist no time to 'think' only to spontaneously, naturally, react; hence the two series on this web site.
In each instance I had to plan and prepare in advance, had to be on location ready and awaiting before sunrise.
You could acquire or commission a painting like this…
Our project was something of a leap into the unknown and it shows in these remarkably successful paintings.
This painting project was much influenced by ideas developed with Francis Pratt of The Painting School of Montmiral , Castelnau de Montmiral, SW France, objectives Francis came to name  "In Search of Power Painting", meaning power in then stop.
Because of my irregular colour vision, I tend to use a language to describe my colourful experiences which even Francis does not fully understand.
Francis is a leading expert on colour vision who's experiences include much scientific study and research at the University of Aberdeen.
I am what is commonly known as  'colour blind', which I have described and illustrated in some detail elsewhere on this web site.
My visual reality clearly defies that over simple description, my paintings and photography show I have a rich colour experience, a quality I  share with some of the grand masters of the past.
You are cordially invited to follow The Art of Gordon Frickers on his blog  and www.facebook.com/gordonfrickers
You can purchase via our 'Payments' page using Paypal or bank to bank
By arrangement payments can be in instalments. 
How much in my currency? Try our free XE Currency converter.
To acquire this or commission a similar painting
Contact US ~
T:+ 44 (0)1865 52 2435  or Skype 'gordonfrickers' ~ whatsapp, or phone M: + 33 (0)6 10 66 19 26
E ~ Important ! please substitute 'at' for @: artistfrickersatgmail.com
Contactez Nous T : + 44 (0) 18 65 52 24 35, M: 06 10 66 19 26
ou par Skype » gordonfrickers Email : info@nullartfrickers.com

Copyright 2017:
Copyright fees and our Terms are among the most generous on the Internet, don't hesitate to ask for details by email, whatsapp, or phone+ 44 (0)1865 52 2435 M: + 33 (0)6 10 66 19 26
Gordon Frickers © updated 29.03.15, 06.02.16, 17.05.2017, 05.03.2018, 23.07.2018, 18.08.2018