The river Plym, distant view of Mount Batten and Plymouth Hoe, 07.00 this morning, wish you were here…
Dawn today found me at my 'home port' mostly to continue researching 'The Mayflower 2020' for the next week.
I'll post about developments on my blog www.frickers.co.uk/art/blog and facebook as and when I can… Meanwhile here is a nice calm pic of the historic River Plym as it was this morning,
Hot on the 'heels' of visits to Portsmouth, London and Bristol,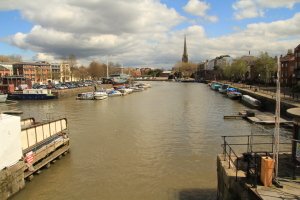 I am here mostly for reasons of art work including my series "Picturesque Wine Villages of Bordeaux" hence the London visit, looking at a possible exhibition and a wider promotion of my art work.
Bristol is one of the most vibrant cities in Britain justifiably famous for much including the port,
Bristol, home of Rolls Royce
and street art, being the home of 'Banksie', Bristol
enjoy.