'Golden Dawn', page and poetry updated, a September the first morning, a new in a fading year, a renewal old and mysterious as time.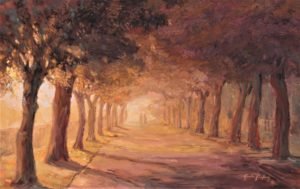 "Golden Dawn", Promenade [3] measuring 61 x 91 cm (24″ x 36″)
£, € or U S $, 1,500.
For Sale > with your credit card Purchase Now  < via Paypal, in any currency, or £/€, or bank to bank; or in instalments by arrangement, contact Gordon Frickers.
How much in my currency?
 Try this   free XE Currency converter.
A painting inspired by the goodly ambience of staying with my 'French Sister' Helene Ancelet, I awoke to a foggy dawn.
The sailor and artist in me knew something special was about to happen so I was out of the house in double quick time.
A charming and seductive 13 th century hill top 'bastide' village, Castelnau de Montmiral in the  L'Occitane region.
The sailor and artist in me knew something special was about to happen so I was out of the house in double quick time. This painting is available "Golden Dawn", Promenade [3] measuring 61 x 91 cm (24″ x 36″) . Want to know more? visit https://artfrickers.com/…/loccitane-castelnau-de…/dawn/