Sea Mist Sunrise, Saint Austell Bay, Cornwall, painted on location.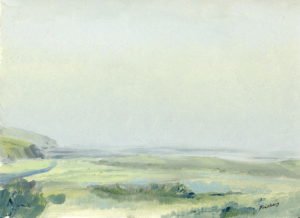 Sea Fog Sunrise
Painting by Gordon Frickers 23 x 30 cm (9″ x 12″),  available, £850.
with your credit card via Paypal, in any currency, or £/€, or for easy bank to bank see the Payments page; or in instalments by arrangement, contact Gordon Frickers.
How much in my currency?
 Try this   free XE Currency converter.
Many distinguished people and renowned companies have chosen Frickers paintings as you can discover by reading my résumée.
Good teaching helps, in that I have been fortunate.
My tutors have included such distinguished artists as Gerard de Rose, Christopher Ironsides, Norman Tudgay (photographer) and for me the most liberating teacher of them all Francis Pratt who's tutors included Michael Kidner, Professor Bohusz-Szyszko who in turn learned from Pierre Bonnard who in turn learned from Cezanne.
Contact

Frickers Paintings
Email: infoatfrickers.co.uk
Email note, to foil spammers I've used 'at' in the address, please substitute @
T : Mobile +33 6 10 66 19 26
or free via Whatsapp / Facebook Messenger / Telegram.com /'gordonfrickers'
Copyright 2021 :
Fees and our Terms  are among the most generous on the Internet.
Don't hesitate to ask for details.
Gordon Frickers © updated 11.10.2021
Best value, buy from a reputable, dedicated, established artist direct from his studio.