Something to make you smile every time you see this on your wall.
"Famous Wine Villages of Bordeaux" series
An atmosphere from the Bordeaux region, South West of France.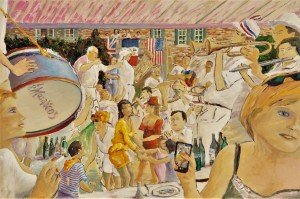 I've tried to capture something of everything except the wild Mediterranean music by Los Musaicos. = http://www.losmusaicos.com/index.php?chap=musique
A Fete du Vin at Sauveterre-de-Guyenne, painting measuring 61 x 915 cm (24″ x 36″), oils, yours for £1,500. ~ you might even talk me into including a CD for you.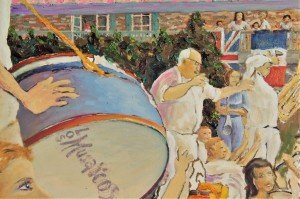 A few years back, en route Gaillac to Saint Emilion I stopped for what I thought would be a brief lunch at Sauveterre-de-Guyenne, how little I realised what was about to happen.
One of the best spontaneous afternoons of my life.
The mayor said to me, "you can speak English if you wish. This town changed hands so many times during the 100 Years War we speak both languages".The chief of police was present and said he had made sure all his men were off duty; now there is a man who understands law enforcement.Discover more on page https://artfrickers.com/…/entre-…/fete-de-musique-sauveterre/ or via my blog.
Very good wines there too, hence the fame …