A new page for the Sauternes Collection within The 'Picturesque Wine Villages of Bordeaux' collection, available including for exhibition, "Sauternes Sunrise".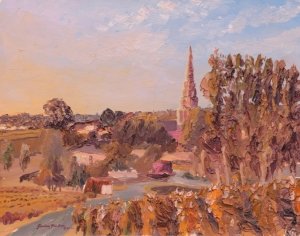 From the mind and hand of  Gordon Frickers, date: 2003, medium: oils, size: 40 x 50 cms (15¾" x 19¾"), oils on oiled paper, one of a pair of very special studies at this location, price £1,200.00 each.
Sauternes Sunrise over the Ciron was to be created as a pair  with "Essential Mists", very fast in a race against time in the chill of first light.
They are a pursuit of the rapidly changing morning light and colour so essential to the extraordinary qualities of Sauternes wines.  in this instance painted as the sun struggled rise for a clear warm Sauternes day, "Sauternes Sunrise over the Ciron" 'painted plien aire' before the sun was fully established in its day light realm.
How many artists would be out before dawn to paint on the location? You won't see many other paintings like this one, enjoy!