This painting has been influenced by Feng Shui,  now complete (I hope… when is a painting 'finished'?) measures 60 x 92 cms (24″ x 36″).
"Gaillac, surprising vines" a painting project, an absolute delight.
This NEW painting measuring 60 x 92 cms (24″ x 36″) so the detail here will be larger than life on an average PC or Mac screen, so much better to help you feel the difference when compared with a photograph.
This series will be exhibited at the invitation of the Ville de Gaillac 1 st to 20 th December 2016, to coincide with a promotion of Gaillac bio wines.
The venue will be 80 Place d'Hautpol, Gaillac 81600 , phone + 44 (0)1865 52 2435 or email via the web site.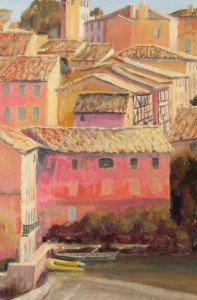 Discover more about this painting and seductive Gaillac at the web site page "Gaillac, Abbaye et Pont"
Like the old town itself, the painting was inspired by and has it's roots firmly in the beautiful capricious river Tarn and old quarters of Gaillac.
Gaillac gave it's name to the district and the wines because it was a founded at the navigable head of the river Tarn.