The King's Tower, Saint Emilion.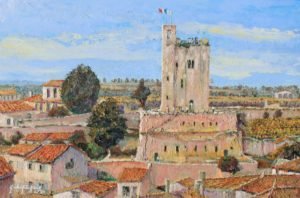 I'm pleased to report this fine painting has been sold to a gentleman who lives overseas.. 
40 x 61 cm (16″ x 24″) £ 1,400.
Saint-Emilion in the Bordeaux region is a classic, most beautiful village or more correctly very small town, walled, ancient, reeking of tradition and red wine, a UNESCO World Heritage Site, French spelling 'Sainte Emilion'.
My new client & potential friend wrote to me,
"Thank you Gordon!
…  Saint Emilion. It was the highlight of our recent trip to Bordeaux.
I found the painting after doing internet research on "original paintings of Saint Emilion".
We travel often to Europe and France so I was very interested in your website.
We have been to many of the same places and collect original artwork (often to remind us of places we have visited) so I look forward building this relationship".