Carcassonne, a new painting, highly recommended and I hope to be there next week as Carcassonne is one of my favourite places.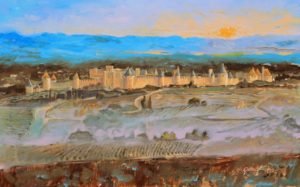 New painting, 99 % complete, available, 2,200 £.
Carcassonne, a beautiful painting, atmospheric, poetic, romantic.
This painting is a perfect way to remember Carcassonne.
Carcassonne painting
76 x 121 cm (30″ x 48″),  available.
This painting is tremendous value for a painting of this quality and size for £2.200.
Carcassonne is justifiably the most famous monument between Monte Carlo and Bordeaux.
So many celebrities have and do visit, you may find yourself having lunch next to some one famous !
Discover more via my two linked website pages "Carcassonne a legendary city"
Besides steadily improving my two website I've been painting.
I'll show you more soon.🙂⚓️