Carcassonne, this beautiful painting, atmospheric, poetic, romantic, this painting is a perfect way to remember Carcassonne.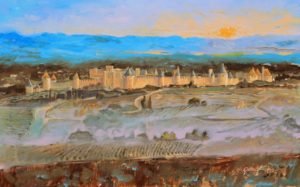 Carcassonne painting 76 x 121 cm (30″ x 48″),  available.
This painting is tremendous value for a painting of this quality and size for £2.200. 
> yours now £ bank to bank or by credit card Purchase Now < via Paypal, in any currency, or in instalments by arrangement, contact Gordon Frickers.
Carcassonne painting
at sunrise, a splendid painting of the justifiably most famous monument between Monte Carlo and Bordeaux.
A perfect way to remember Carcassonne.
Take a lunch or dinner in Carcassonne's central place or stay in the luxurious hotel, you never know who you might meet.
Carcassonne is noted for the restaurants in the place central  which is one of the many reasons Carcassonne is often visited by distinguished personalities.
The long list of celebrities is as varied as Mark Twain, Walt Disney, Mik Jagger, and Winston Churchill.
Carcassonne is more than distinctive, Carcassonne is a legendary almost fairy tale city set among vines, pines, herbs and wild flowers in the beautiful Aude valley, hard by the sparkling Aude river between the Black Mountains and the Pyrenees in the heart of Cathar country.
If you've not been there you are in for a real treat.
The Black Mountains which form the background for this painting are an extensive National Park, very 'old France, well worth exploring,
A voyage of discovery and surprises awaiting you as you discover the pleasures and amusements of old Carcassonne and the secret places that nestle in the forests and gorges of this region.
Not to be missed, you will likely find one to Carcassonne visit leaves you wanting more and this painting is your perfect souvenir.
Further reading, photo details, main text
contact us.
Many distinguished people and renowned companies chose Frickers paintings as you can discover by reading my illustrated résumée;
This because Gordon Frickers paintings have unique, enduring qualities.
A timeless painting to give you pleasure every time you see it upon your wall
A painting that will hang comfortably with the finest collections.
Looking for the best in fine art investments?
You have found one here.
2,200 £, > yours now £ bank to bank or by credit card Purchase Now < via Paypal, in any currency, or in instalments by arrangement, contact Gordon Frickers.
Landline : + 33 (0) 9 79 01 93 20
Mobile : + 6 10 66 19 26, E : artistfrickers at gmail.com
WhatsApp, Telegram.com or Facebook Messenger to  'gordonfrickers'
Email: artistfrickersatgmail.com : note, the 'at' is to fool robots and should be replaced with @ : if it arrives I always reply.
Websites : www.frickers.co.uk/art (marine & aviation)
& www.artfrickers.com (Landscapes & portraits).
Copyright 2022 and legal moral rights for painters :
Fees and our Terms  are among the most generous on the Internet.
Don't hesitate to ask for details.
Gordon Frickers © updated 25.07.2022
You are cordially invited to follow and share The Art of Gordon Frickers on his blog and or www.facebook.com/gordonfrickers.