Lands End, a charming little gem of a painting revealed on my website for the first time, made before the site was 'developed'.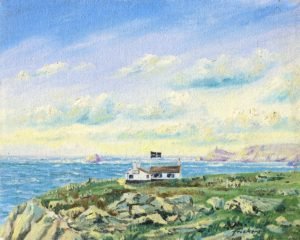 19 x 24 cm (7.5″ x9.5″), available offers ?
Lands End and a view of Cape Cornwall painting made as and when it was before the site was sold and developed into a tourist attraction.
Land's End most westerly headland of the mysterious legend rich Celtic land of Cornwall with it's 200 foot high Granite cliffs, and of mainland England.
The Lands End site offers splendid views of the coast, Wolf Rock with it's lighthouse and is especially impressive during a strong westerly gale.
Discover the quality of this fine little painting by visiting my website page 'Lands End'.
URL : https://artfrickers.com/project-picturesque-wine-villages-of-bordeaux/english-landscapes/lands-end/
Contact Frickers
Email: infoatfrickers.co.uk
Email note, to foil spammers I've used 'at' in the address, : please substitute @ :
T : Mobile +33 (0) 6 10 66 19 26
or free via Whatsapp / Facebook Messenger 'gordonfrickers'
Copyright 2021 :
Fees and our Terms  are among the most generous on the Internet.
Don't hesitate to ask for details.
My painting is the choice of many distinguished individuals and famous companies.
Gordon Frickers © updated 21.04.2021