Lands End, 'The First and Last House, an historic little gem of a painting made before the site was 'developed'.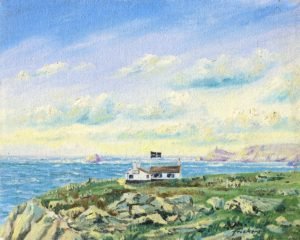 19 x 24 cm (7.5″ x 9.5″),
A good investment for 500 £ and a pleasure to own.
Purchase now > with your credit card Purchase Now  < via Paypal, in £ or any currency, or bank to bank; or in instalments by arrangement, contact Gordon Frickers.
How much in my currency?
 Try this   free XE Currency converter.
Lands End, 'The First and Last House', this painting is rich with the scent and feel of the ocean breeze, is now historic, created before the site was developed into a major tourist attraction
Land's End is the most westerly headland of England and the mysterious legend rich Celtic land of Cornwall, awesome with it's 200 foot high Granite cliffs. 
The site offers splendid views of Cape Cornwall, the coast, Wolf Rock with it's lighthouse and is especially impressive during a strong westerly gale.
A larger painting of Lands End is also available.
Landline : + 33 (0) 9 79 01 93 20
Mobile : + 6 10 66 19 26, E : artistfrickers at gmail.com
WhatsApp, Telegram.com or Facebook Messenger to  'gordonfrickers'
Email: artistfrickersatgmail.com : note, the 'at' is to fool robots and should be replaced with @ : if it arrives I always reply.
Websites : www.frickers.co.uk/art (marine & aviation)
& www.artfrickers.com (Landscapes & portraits).
Copyright 2023 and legal moral rights for painters
Sharing my pages and posts for private use helps everyone.
For commercial use our Fees and  Terms  are among the most generous on the Internet.
Don't hesitate to ask for details.
Gordon Frickers © updated 07.01.2023
You are cordially invited to follow my blog & www.facebook.com/gordonfrickers.