Wish you where here ?
After an 8 hr 45 minute drive I arrived safely at the house of my friend Hervé Boitel in the Tarn department.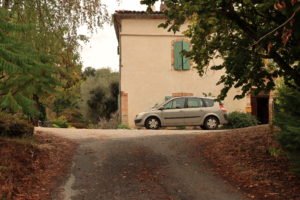 I drove through a mixture of heavy rain and bright sunshine, yet again wishing I had a co driver.
We have to make the best of what we have don't we?
I stopped en route at the Aire de Vendee and as it was raining in fair imitation of a tropical downpour and chilly too, I ignored my salmon and mayo sandwiches and treated myself to a nice hot meal.
My mostly very good driving record was blotted for me by my car being side swiped in heavy traffic on the Bordeaux periferique by a driver who did not stop.
That will set me back 90 € for the damage excess on my insurance …
Such is life, I'm shipshape and the car will benefit from a respray on that side.
Although Hervé's home  far inland in very beautiful countryside, one of the main reasons I am here is to repair his boat.
Summer lingers longer in the Tarn as I know well having previously lived here, first attracted by a course with the immensely knowledgeable M. Francis Pratt of The Painting School of Montmiral,  for 9 extraordinary years.
I already have several invitations from friends some business to attend to and undoubtedly there will be some adventures with beautiful moments.