"There be dragons"
For St George & England !
St George's Church, Great Bromley, Essex, needs new roof, please help raise funds: contact Chairman Fred H. Nicholls, or me (Gordon Frickers).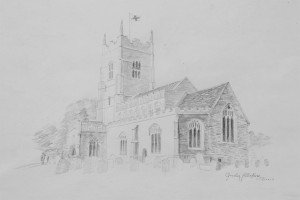 This graphite drawing measures approximately 36 x 25 cms (14" x 10").
I'm happy to donate the original sketch to the church fund or you can buy it here via Paypal and I'll send them the money, to be used as their people think suitable.