Not the most glorious page on the web site so I thought to show you this painting of the ship that took the greatest treasure ever captured at sea.
"The Great Pirate" was how the Chinese described this ship and her crew.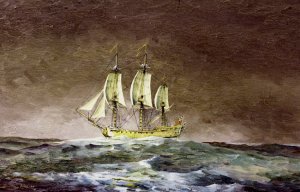 Terms, conditions and copyright page has been updated .
http://www.frickers.co.uk/…/contact-g…/terms-and-conditions/
My painting was sold via A E Dutton & Sons of Chester.
The painting is based on the superb model at the National Maritime Museum, Greenwich, London, which I was kindly allowed to inspect in detail. Also on the book, "Log of the Centurion" by Leo Heaps which in turn is based on and quotes from the original papers of Captain Philip Saumarez written during his circumnavigation 1740 /44.
This true story almost defies belief; unlike my 'Terms' which are among the fairest on the Internet