I found myself cogitating on this subject as I prepared 3 paintings, illustrated here, for shipment to their new owners.
There are 2 of the images of each of 3 pictures here so you can decide for yourself, enjoy.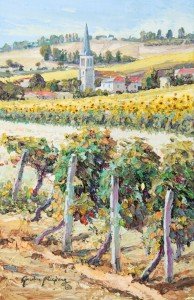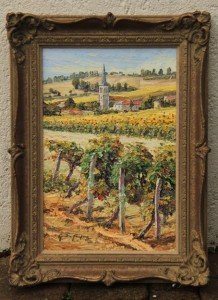 Many framers will tell you, "a good frame makes the picture"; well they would wouldn't they?
I've seen some beautifully framed work and some horrors.
Many of my clients buy with a frame I supply, confident it will be first class, others prefer to choose their own for a variety of reasons including the fun of it, a relationship with a business local to them and to feel sure the frame fits the decor of the intended resting place.
I've previously written a little on the subject of picture framing on this web site; it's quite a popular page!
"Kenya, Maiden Arrival, B I Sunday" and "Mas de Boyer, Gaillac" have both been varnished and just been framed.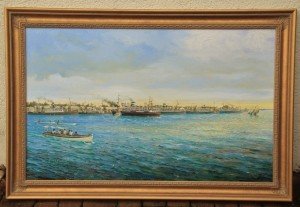 "Ice Maiden" is a signed limited numbered edition print so collectible, valuable, I only have 2 copies left in stock.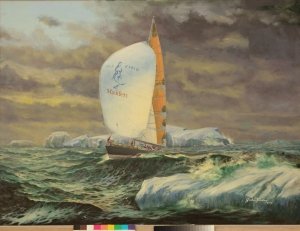 I personally choose the frames I supply and have used only two sources for the past 30 or so years. 
Having visited and consulted with both my sources, we chose the styles together.
We have a good working relationship, they know my work and I give clear concise instructions and importantly I pay on time.
'There frames are all hand assembled, many are hand made all are supplied guaranteed and to my specification and order.
The real test of a business is what happens if something goes wrong or one needs that business to 'go the extra mile'? This is not unlike going to sea with a crew, you discover the real person when the going gets tough.
My suppliers have both passed those tests with flying colours.
I've chosen very different frames to compliment these very different paintings.
These frames are hand made to my special order.
I've been working with the same two framers for about 30 and 25 years respectively because they understand my work, do a great job for a very reasonable price and are reliable.
Varnishing is important too.
Varnish, proper job picture varnish that is, restores you painting to look newly painted, protects your painting from atmospheric pollution, boisterous party goers and other natural hazards.
When cleaning a properly varnished painting, the crud comes off with the old varnish leaving the delicate oil paint undamaged, ready to look like new under a replacement coat of varnish.
If you have questions of a picture that needs attention don't hesitate to contact us.