I passed 4 hours in autumnal sunshine, Gaillac painting on location, my nearest companion a farmer ploughing with his tractor.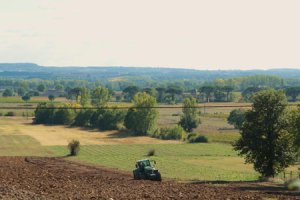 Following up on the previous day's drawing I was exploring the complex colours of the trees at chateau de Saurs. 
That was the first time I have painted 'plien aire' for a couple of years.
It is hard work, very tiring, a pleasure though to work in the sun with my smock off duty, sun on my naked back.
The oil study will contribute to a larger painting to be part of the new series for exhibition next September at the invitation of la ville de Gaillac, Office Cultural.