No. 14, as in address : Gordon Frickers 14 Rue du Bout de Ville, Thehillac, 56130, France;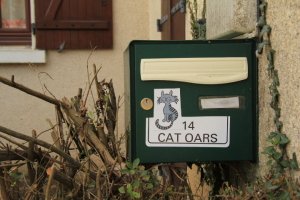 visitors welcome, doubly so if I know in advance you are coming so I can prepare a more lavish welcome for you. 
Trying to settle into Thehillac, arrived during a storm following a miraculously dry drive thank you G-d from Midi Pyrenees in a car loaded to the roof rack and followed faithfully by an over loaded Wayfarer. 
Now have Internet connected, first time in years to this house and not yet a land line (fix) and TV is looking like a big problem to connect.62 giga.
Since arriving which I've been working flat out to introduce some order and reduce the numbers of boxes here.
How to move furniture is a problem too, anyone like to lend a helping hand, no pay but many little rewards?
I have learnt that if I move again I shall abandon anything not essential.
As is I'm planning to digitalise all my files then dump the paperwork, documents and thousands of photos.
I have learnt I am much more attached to Gaillac and my friends there than I thought possible and flatteringly, some of them quite like me too.
I have learnt I will be spending much of this winter painting "B I Sunday" and Gaillac wine scenes.