Today I have decided to plan to paint a new version of Temple Mount and the site of David's city.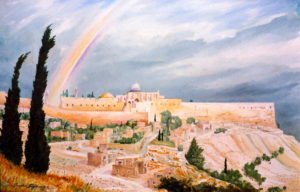 Jerusalem, 61 x 91 cm (24″ x 36″), £ 3000.
Jerusalem paintings, the key elements of Temple Mount and David's City Israel are all here as eye witnessed in 1984 when I extensively toured Israel including Judea and Samaria.
I have edited and updated my page Israel paintings series .
The mosque seemed to be in quite good condition.
The rest was a disgrace, an unholy mess.
The #Palestinian guardians, far from promoting mutual understanding were distinctly unfriendly & deliberately rude. 🤨⚓️