Flaming June, risks and rewards??
I'm reminded of #painting 'Red Bales' a series of 6.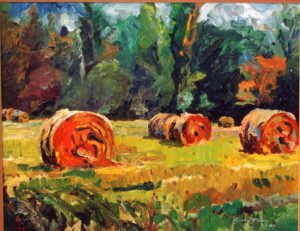 Red Bales, in their way revolutionary,  have influenced many fellow painters and changed my life'.
A snip at £ or € 1,500.00 each, a knowledgeable gallery would ask double.
I was at that time working out of the
Painting School of Montmiral
 in the South of #France.
I began to understand and benefit from my very unusual, some say 'colour blind' colour #vision.
I still have two of the series here in my studio.
You can see, discover more
and acquire one or both of what may well become my best known landscapes.