"Moulin sur la plage" ~ "Windmill on the beach".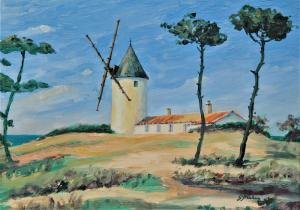 A charming coastal landscape, as I write hung on my salon wall ready to bring to your home, or office an ambience of open skies, clean beaches, woodland and ocean, tales of pirates and gourmet foods.
Painted on the Isle de Noirmoutier, off The Vendee coast.
The island of sand, refreshing ocean winds and sunshine, scented pines and famed for its new potatoes and the finest sea salt in all France. 
Modestly priced at £750. 
https://artfrickers.com/…/landscape-paintin…/vendee-province/