An uproarious Fete de Musique at Sauveterre-de-Guyenne inspired this painting, 61 x 915 cm (24″ x 36″), oils, yours for £1,2000 ~ you might even talk me into including a CD. New on www.frickers.com, my landscape web site 'Famous Wine Villages of Bordeaux' series, Entre Deux Mers.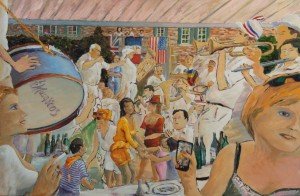 Sauveterre-de-Guyenne in the heart of 'Entre Deux Mers' (the land between two rivers), picturesque fortified town ~ wall that is not the wines ~ in the middle of the Bordeaux wine region.
The chief of police was present and said he had made sure all his men were off duty; now there is a man who understands law enforcement.
Discover more on the web site pages, this one is Fete de Musique, so enjoy.
To acquire this or commission a similar painting, a pleasure to own, a sound investment, you can purchase in easy stages.
To make a purchase the easiest way is bank to bank, ask for details, or using PayPal via the Purchase Page.
Contact US ~ T:+ 44 (0)1865 52 2435  or Skype 'gordonfrickers'
 whatsapp, or phone M: + 33 (0)6 10 66 19 26
Email ~ Important ! please substitute '@' for 'at': artistfrickersatgmail.com
Best value, buy from a dedicated artist- buy from a reputable, established artist direct from his studio.
Copyright 2018  fees and our Terms are among the most generous on the Internet, don't hesitate to ask for details by email, whatsapp, or phone+ 44 (0)1865 52 2435 M: + 33 (0)6 10 66 19 26