Haggadah.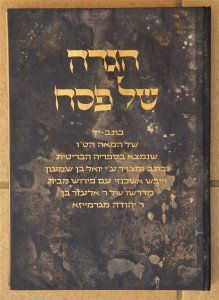 This damaged book was given me recently by a French friend who thought it might interest me.
This is 'The Ashkenazi Haggadah', including a copy of a manuscript of the mid – 15 th century from the collection of The British Library.
The prolific illuminations are mostly attributed to the workshop of master craftsman Joel Ben Simeon, commentary attributed to Eleazer Ben Judah or Worms, The Rhineland (modern Germany).
A book of a book, water damaged, my questions are would this book be economically repairable and if so how and or by whom?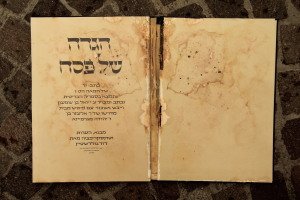 Of the contents, there is a lengthy detailed introduction followed by "The Book and Its History", an explanation of the original book, in English, sources quoted.
I've not read it all yet but what I did read engaged me, I think it worthy of sharing.
The English texts say the original Hebrew explanatory notes are also worthy of further study.
The reproduced original Hebrew texts are as far as I can tell (I really really need to revise my Hebrew…) the same as the Haggadah we use today for Passover.
So similar, I could use this book on the 30th of March next…
There are however many notes on differences in ritual between various 15 th century European communities.
For example in my family the 'green herbs' are dipped in salt water; some communities used vinegar; I never knew that (thanks be !).
This it is British Museum publication, reproduction by permission of the British Library Board, hence being a book about one of their treasured books.
To my surprise there is no ISBN showing.
It measures 11" x 15", is good quality printing, also what some would describe as a 'Holly Book'.
The cover title page more or less describes what the book is about.
It appears to have been printed in Japan, 1985
Most of the pages are in fair condition for the age, the white being slightly ochre, then again it may have been printed to that effect.
There is some minor damage from mould, none of it enough to ruin a page.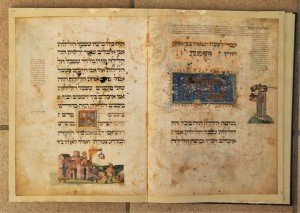 As far as I can tell, only about 1/3 rd of the pages have water damage to the binding, mostly quite slight, a few pages are more extensively water marked to a greater or lesser extent, as is the binding and hardback cover.
Overall even in its present condition, this is a book of exceptional beauty, a treasure.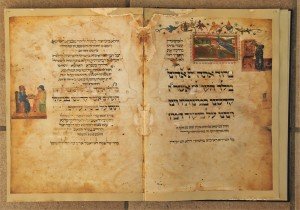 It seems to me it would be a shameful decision to throw it away.
Worth restoring, if so how & by whom at what cost, your thoughts please ?