Le Tarn: Arrived safe n sound last night having missed a turn which caused my GPS to direct me onto 20 km of the wiggliest squiggiest mountain roads I've ever driven on (fast because I was late = more fun!).
Even in the dark by starlight and headlights the scenery was spectacular.
Today was for 'business' in Galliac and the pleasure seeing the preparations for Christmas 
these people know how to make a quality life,
of revisiting on foot some places that bring back happy memories of times shared with good friends who visited,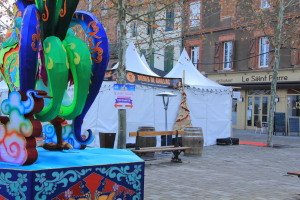 Stev Mitchell, my son, Linda Winter & Michael, Edwin Morton & Sue, Edwina Harrison & Rob to name but a few…
Tonight, dinner with Charles, Count de Nobel d'Anglure and the countess, their ancestral home is beside the Abbeye St Michel on the bank s of the Tarn.
Tomorrow I have to pass the Black Mountains to get onto the Mediterranean plain but which route, direct or via Carcassonne and Narbonne…?