Isle of Scillies, St Mary's Port.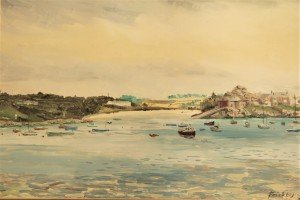 Measuring 33 x 22.5 cms (13″ x 9″) each, Oils, very original, sold.
Each painting, one made on the quay, the other on the opposite beach, looks into the other.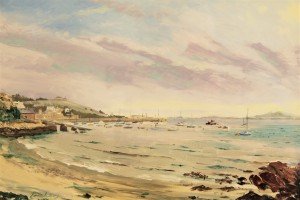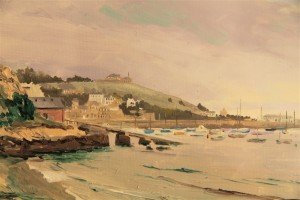 A very unusual, a pair of studies made on location at St Mary Port, Isle of Scillies.
These two fine paintings, a blast from my past, were painted on location on successive days, while awaiting at the request of BBC Radio Cornwall staff,  the arrival of Virgin Atlantic Challenge II.
Although I like to think I've learnt a few more tricks, studied much and paint more consistently since those far off day, is remains I hope you will agree, a great pleasure to see this pair again and again.
Two interesting examples of an emerging talent, who'd have thought it?
This fine pair found a new home in the collection of M. & Mme Linquette, at Brest where I was able recently to enjoy them again and re photograph the pair.
… souvenirs of a great 3 days on the Scillies, fine courageous painting.
To acquire or commission a similar painting or print; it's simple, secure; place a deposit or payment on our Payment page for your Gordon Frickers original painting (or in some cases a Heritage quality print) or feel free to
T: + 44 (0)1865 52 2435  Mobile 00 33 (0) 6 10 66 19 26
or Skype 'gordonfrickers'
Email: artistfrickers at gmail.com
Copyright 2017:
Copyright fees and our Terms are among the most generous on the Internet, don't hesitate to ask for details  
T:+ 44 (0)1865 52 2435 
Email:

artistfrickers at gmail.com
Skype (gordonfrickers)
whatsapp, or phone M: + 33 (0)6 10 66 19 26
Gordon Frickers 12,09,2017 © updated