To Gaillac, Castelnau de Montmiral and Albi. Later I'll visit Toulouse too, next week I intend to drive south to the seductive Tarn province.
I'll be there about a month mostly to paint and meet people.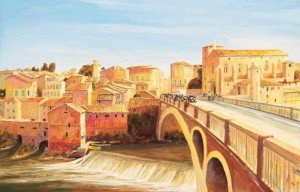 La semaine prochaine, je compte diriger vers le sud de la province Tarn séduisante.
Je serai là environ un mois la plupart du temps à peindre et de rencontrer des gens.
The town of Gaillac (pronounced guy'ak) desire an exhibition in December to run with a bio wine promotion, paintings of the town and more outstanding chateaux.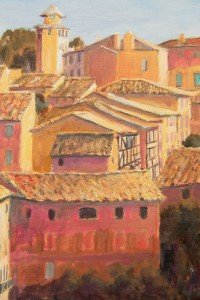 Would you like an invitation?
Meanwhile I have this painting of Gaillac, intended to be one of the exhibited works, the bridge and Abbay nearing completion.
Measuring 60 x 92 cms (24″ x 36″), oils on canvas, price £2,250.00 (depending on rates approx 3200 $ U S, or 2852 Euros), ex frame ex studio.
You are perhaps aware, Gaillac is a small, remote very varied and beautiful wine producing region with a long interesting history which includes some remarkable vines.
Today Gaillac wines have become quite chic in London. People are working hard to develop the wines and their markets.
My friends in Albi sent a link to a new Gaillac web site.
Pages are in English or French as you wish.
I found the site excellent and very interesting.
DON'T look unless you are prepared to be enchanted and join me in the beautiful Tarn!
I will also be painting around Bordeaux this summer. I have a unique project almost ready for exhibition "Picturesque Wine villages of Bordeaux". While vineyards and chateaux have often been painted, the villages that are behind the famous names, St Emilion, Sauternes, Cadillac etc have never been tackled.
It was this project and my "Trafalgar Collection" that attracted the attention of Rochay Elite, Pall Mall, London for a prestige exhibition.
Je vais aussi peindre autour de Bordeaux cet été. J'ai un projet unique presque prêt pour l'exposition "villages viticoles Pittoresque de Bordeaux". Alors que les vignobles et les châteaux ont souvent été peints, les villages qui se trouvent derrière les noms célèbres, St Emilion, Sauternes, Cadillac etc n'a jamais été abordé.
Il était ce projet et mon "Trafalgar Collection" qui a attiré l'attention de Rochay Elite, Pall Mall, Londres pour une exposition de prestige.