New on this web site added to The Israel Collection a painting never before exhibited that dates back to 1984.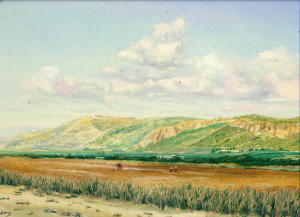 A 20 th century landscape painting with echos of the 19 th century paintings of "The Holy land" by Scottish artist David Roberts
This Landscape Painting measures 31 x 41 cms (12″ x 16″), oils, £1,000; by Gordon Frickers,  available, ex studio ex frame..
The Painting
A gentle landscape of pastel colours first seen as I approached Haifa from the south and encountered Mount Carmel rising up from the fertile plain facing the Mediterranean Sea.
You can discover more on the new Mount Carmel page, enjoy.