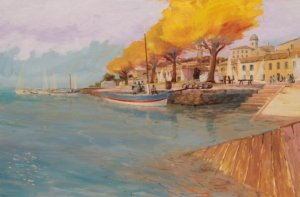 A painting once started, the pictures it reveals have a habit of turning into, err, well, a painting.
The painting assimilates itself, resistance is impossible. Or is it?
This study is intended to introduce the little know picturesque riverside village of Bourg in Haut Medoc in the Bordeaux region, to be part of the much larger 'Wine Village of Bordeaux' project, to be exhibited together with products of the region.
I'll write more about that on the web site page when the painting is complete (ish), soon.
Assimilation? How to retain the freshness, power and spontaneity of the artists first instinctive, emotional, uninhibited reaction to the subject and the canvas while also conveying a sense of what is going on.
This is made more difficult because I am the artist…
Telling some one else what to do is easy; doing it oneself is often quite a different matter.
Once I start a painting the pictures have a habit of turning into, err, well, a painting. It is really difficult to avoid.
I have a few ideas similar to Matisse but different of my own.
I intend to try them out via this and the next few paintings in this series.
I don't know what they will look like, that is part of the point of them, I do know they will be something new and special.