Bourg waterfront, progress…
The picture is intended to become one in the 'Picturesque Wine Villages of Bordeaux' series.
I have a very specific idea in mind but the painting is taking over.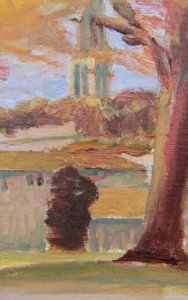 The currents on the Gironde estuary are very strong so I'll take that as an omen and go with the flow which still leaves the question.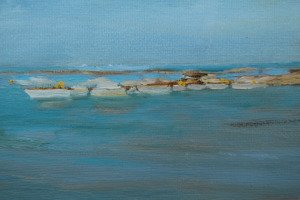 Given in painting the sky is the limit, when and how will this painting be completed???
You are cordially invited to follow The Art of Gordon Frickers on www.facebook.com/gordonfrickers
You could acquire or commission a painting like this.
You can purchase via our 'Payments' page using Paypal or bank to bank
By arrangement payments can be in instalments. How much in my currency? Try our free XE Currency converter.
T: + 44 (0)1865 52 2435 or Skype 'gordonfrickers'
Email: info@nullartfrickers.com
Gordon Frickers © updated 03.06.15
Copyright:
In some cases, educational and private use for example free use is permitted. By International law these pictures and texts may only be copied after written permission and a copyright fee has been paid.
Our fees are friendly our terms very reasonable.