The Promenade (1)
Painting on location, 'plien aire, in the heart of L'Occitane, France is a charming and seductive 13 th century hill top 'bastide' village,  Castelnau de Montmiral.

 The South West France Collection.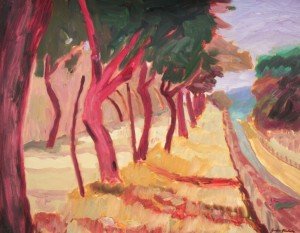 The Promenade (1)
A Gordon Frickers on location experimental, a remarkable painting, £1,000. or €,   40 x 50 cm (15¾" x 19¾")
This painting is one of two remarkable pictures produced while studying form and colour at the Painting School of Montmiral.
 Purchase Now  £/€ while you have the chance, Paypal or bank to bank; life is short, you may not get a second chance …
or by arrangement with Gordon Frickers, in instalments.
The painting
For more about the origins the promenade of Castelnau de Montmiral try this link, 'further reading'.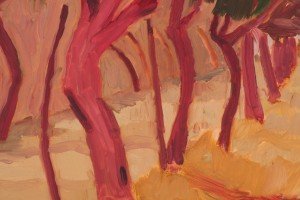 To make a purchase the easiest way is bank to bank, ask for details, or using PayPal via the Purchase Page.
Your Best value is in buying from a recognised, dedicated, experienced artist – buy from a reputable, established artist direct from his studio.
T : Mobile 00 33 (0) 6 10 66 19 26
or Whatsapp 'gordonfrickers'
Email: info at frickers.co.uk
Copyright 2020 fees, our Guarantee, our Terms are among the most generous on the Internet so don't hesitate to ask, you will be in honest, experienced hands.
Gordon Frickers © 20.05.2015, updated 05.07.2020
You are cordially invited to follow www.facebook.com/gordonfrickers