Carcassonne, a newly completed painting of the most famous monument between Monte Carlo and Bordeaux.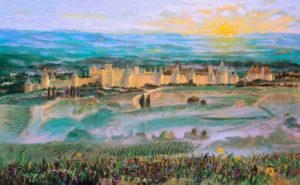 Carcassonne painting 76 x 121 cm (30″ x 48″),   5,275 £
Carcassonne with a sunrise over the Black Mountains.
Carcassonne is a legendary almost fairy tale city set among vines, pines, herbs and wild flowers in the beautiful Aude valley, hard by the sparkling Aude river between the Black Mountains and the Pyrenees in the heart of Cathar country.
The Black Mountains form the background for this painting and may well remind you of tales of Middle Earth.
The Black Mountains are an extensive National Park, very 'old France', teaming with wildlife and history well worth exploring.
Gordon Frickers
I've visited Carcassonne many times, all of those days being memorable, following in the wake of a long list of celebrities is as varied as Mark Twain, Walt Disney, Mick Jagger, and Winston Churchill.
These paintings have distinctive, resonating, enduring qualities in part because Gordon Frickers has an unusually rich form of colour vision.
These are qualities are gifts he has in common with some of the greatest past masters including Cézanne Degas, Dürer, Titian and Rembrandt, Monet.
Gordon Frickers is one of the very few artists invited to created a one man show of (35) paintings (May 2011) at the European Parliament, Brussels, an impressive addition to his list of exhibitions in other prestigious venues in Britain and Europe.
Many distinguished people and renowned companies chose Frickers paintings as you can discover by reading my illustrated résumée;
Gordon Frickers paintings have unique, enduring qualities which add to their investment value.