What does your house smell of today ?
Mine smells of picture varnish.
A painting is not just for Christmas; from a recognised artist, a painting is an investment.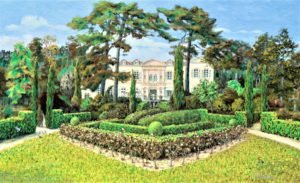 The surface should after 3 to 6 months be treated with 2 coats of picture varnish.
That is what I've just done for my "Château de Saurs" which 76 x 121 cm (30″ x 48″), oils on canvas, available, £12,500.
Absolutely do not use household of marine varnish, use a modern picture varnish.
I use a Winsor and Newton acrylic.
This protects the delicate surface from life's hazards, pollution grime, fly pooh, champagne and so on.
Importantly, the varnish can be cleaned and even removed by a skilled picture restorer should the painting need restoration.
Good paintings from known artists increase in value.
They are an investment that should be protected and insured.
If in doubt or you want a painting restored / cleaned, ask me.