"Vin, au Château, Gaillac",
Preview, (au vernisage) 18h Friday 2/12/2016.
Opening 2 Décembre, Friday, 2016 à 18h00 (RSVP) Closes 30 December.  Open to the public 8h – 12h et 14h – 17h30
Where?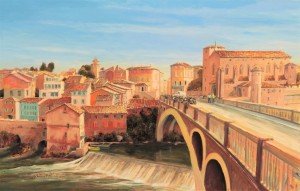 80, Place d'Hautpoul, Department Pôle "Culture & Attractivité", Mairie de Gaillac,
81600 Gaillac, Department du Tarn, l'Occitaine.
Tél.: 05 63 81 20 19
culture.attractivite@nullville-gaillac.fr
The wines, châteaux, domains and often surprising landscape art of Gordon Frickers.
Exceptionally, I was able to work on this collection on the locations and that shines through each original.

The Gaillac region is remote, seductive, even many French people have not heard of Gaillac in the Tarn province.
Extraordinary châteaux, very varied wines, gourmet foods, an ever changing landscapes and 2,300 + year history await your discovery; introduced via the compositions, colours, the paintings, the eyes of the artist Gordon Frickers, a rare and truly unusual exhibition.
Nearest airports, Toulouse, Rodez, Carcassonne.
Consider please your self invited, confirmed today., come and enjoy!
Train: to Gaillac via Toulouse
~
For more about this relatively undiscovered region try Googling 'Gaillac', 'Le Tarn' and Midi Pyrenees. Or contact the always helpful (English spoken) l'Office du Tourisme, Gaillac, T: +33 (0) 805 400 828
info@nulltourisme-vignoble-bastides.com
~
Gordon Frickers, T: + 44 (0)1865 52 2435 or +33 (0) 6 10 66 19 26
E: gordon@nullfrickers.co.uk