New on this web site, part of the "Gaillac, amazing vines" Series.
Development sketches and pictures appear, the painting will follow soon, are you sitting comfortably?
Château de Saurs in the heart of the gaillac wine region was a chosen subject for a number of special reasons including it is the most classic château in the region and has produced many award winning wines.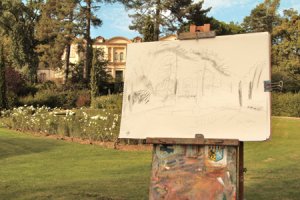 The colours, light and forms gardens of Château de Saurs present me with a considerable challenge.
I made a number of visits during the autumn of 2015, explored the vicinity and, it had to be done, sampled the excellent wines.
Together in consultation with the owner we decided the most distinguishing feature is the magnificent, most striking view of this the classic Palladium style Château de Saurs from the beautiful gardens.
Here is a colour beginnings sketch made on location.
You can discover more by following this link, about Château de Saurs, Gaillac