You can follow the development of this picture here on this page and on this web site blog.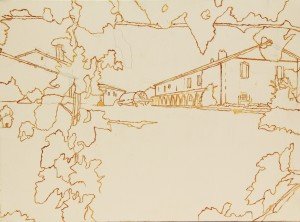 This outstanding produteur attracted my attention for many reasons not least because it is the only home of 3 of the rarest, oldest vines in France.
Furthermore Alain Boullenger is a walking encyclopedia.
With Alain I found myself reading a beautiful book on vines and wines of Gaillac published in 1861…
The place name comes from the ancient local language of l'Occitaine, meaning a fortification with much rain/water,
L'Occitaine is a language an culture that live on today, still the first language of many of the old folk, people still speak of L'Occitaine a cote de France, an echo to the times when it was an independent region, neighbor of the aggressive Francs.
Researched on location, painted at the request of the Municipale de Gaillac for an exhibition in December 2016.
I consider myself very fortunate to have been so generously received, to have learned so much and I hope I'll do justice to and benefit this exceptional vineyard and it's welcoming people.
Castel de Brames
Domaine viticole d'appellation Gaillac Contrôlée
Brames-Aïgues
81310 PEYROLE
Tel : 05 63 57 25 80
Mob Alain : 06 08 42 39 08
To acquire or commission an example of the art of Gordon Frickers phone + 44 (0)1865 52 2435 or email: info@nullartfrickers.com
You can purchase via our 'Payments' page using Paypal or bank to bank