The 'Rose' city, Toulouse, a long drive from Brittany, worth it, the South West is like another world and warm to hot dry weather here.
Lunch with Lilly Malek.
We have been friends for a decade or more.
It's not a 'romantic' relationship in the 'passionate' sense.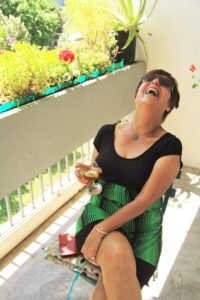 Rather two who live mostly alone, people from very different cultures [Lily was raised in Iran] who thoroughly enjoy each other's company.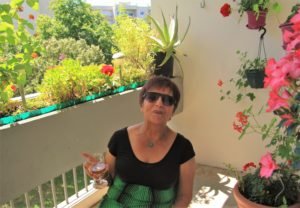 I've met her three sons, they too are delightful men.
She has made an amazing mini garden on the balcony, a variety of flowers that surprised me.
An amber coloured wine, not to sweet it proved an ideal accompany for a merry lunch.
With that and exhaustion from my previous 5 long days including the long drive South, nine hours from 'my' village in Brittany, another 'long' followed the lunch, a long siesta.
I have to collect a major painting, on loan to Chateau de Saurs and have a variety of other 'business' and good friends to visit,  in this region where I lived for 9 years.
My German friends tell me they have an expression which translates as "God is smiling, he is in his garden in South West France".
Those of us who visit here for more than a few days soon come to understand the meaning of that phrase !