Toooo much rain ???
I am preparing to drive South on Monday to real sunshine and sunflowers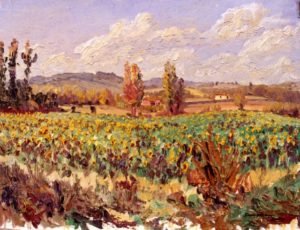 To Toulouse, 'The Rose City',  and the glorious Tarn, join me if you wish or follow my blogs.
This charming painting was made on location in the heart of L'Occitane, the Gaillac region of southern France, a region long aeons famous for wines chosen for kings.
The painting measures 33 x 43 cm (13" x 17″) is available for £1150, or €, or U S $.
https://artfrickers.com/s-w-france/castelnau-de-montmiral/landscape-with-sunflowers-france/
"More than a match for anything in the Musee d'Orsay" ~ Alain Soreano, author, historian [December 2016] when introducing an exhibition of my work at the Maison culturale, Gaillac.