It's been a real pleasure to share a few days together.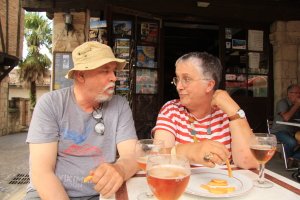 08.00 today and my very good friends Michael and Linda Baker were under way, bound for Plymouth, England.
Their plan, a relaxed two day drive stopping at places like Saint Emilion.
I've been looking after Michael (on and off) since we were 9.
He used to join our family for half term breaks from our school in East Sussex (Broomham) because his family lived to far away to take him home; we Frickers 'adopted' him.
Today Linda has been helping me begin the long task of preparing a synopsis, a proposal for a book about my work requested by one of the editors at Bloomsberry Publishing, London.
Starting with some basic notes and research online, I wanted her perspective rather than mine.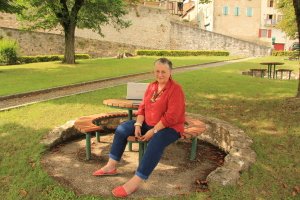 Linda has studied writing.
We were also hoping we might evolve a new, popular, way to present the work of a painter.
She was very patient, very helpful, thank you Linda.
Together we made good progress.
There remains a very long way to go including to decide which paintings to include, which to leave out…?
Undoubtedly I am hoping, as the work progresses, other friends will contribute and help massage the texts into an amusing, enthralling read.
This task is one of the many reasons for my voyage to the calm and intellectual support at Castelnau de Montmiral.
I had the honour of being best man at their wedding.
Linda, an excellent conversationalist, a fine cook, has been taking care of us both.
Will I see them again?
Linda, who teaches psychology and painting has accepted a new teaching post in Italy near Venice… Best of friends, I wish them every success in a wonderful land.